Patients See the Positives in Morecambe Bay's Community Eyecare Service During COVID-19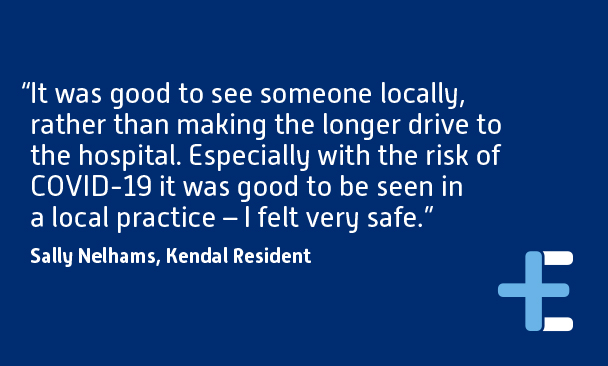 26 April 2021
An innovative integrated eyecare service has been proving its value to patients in the Morecambe Bay area over the past four years and has become even more important during the COVID-19 pandemic.
The service was originally established in 2016 to help ease pressure on the region's hospital emergency eye clinics and improve patient experience by reducing travel times and offering more convenient appointments delivered through primary care optical practices.
Tim Bagot, Clinical Governance and Performance Lead at Primary Eyecare Services, explains further: "The service was developed following patient consultation that showed a need for more flexible eye care appointments, including at weekends, in accessible locations with convenient parking facilities. The distribution of optical practices in the region, together with the skills of optometrists in those practices, means that we can deliver a wide range of eye care monitoring and treatment services to patients, resulting in fewer visits to hospital settings."
The integrated eyecare service covers Glaucoma repeat measures, paediatric refraction, low risk ocular hypertension monitoring, cataract surgery post-operative checks and the treatment of minor eye conditions (MECS).
The Service in Practice – Prompt Reassurance During COVID-19
One patient who found the integrated eyecare service offered swift reassurance and treatment was Sally Nelhams, a resident of Kendal, who had good reason to be concerned when she woke up with a strange sensation in her eye. Two weeks previously she had undergone surgery to repair a tear in her retina and she was naturally worried that a serious problem had returned. She explains: "When I suffered the retinal tear, I simply woke up one morning experiencing flashes and floaters in my vision. I didn't think much of it but mentioned it at my contact lens appointment which, fortunately, was the following day, where the tear was diagnosed. I was very surprised to find myself being treated the same day at Lancaster Royal Infirmary.
"Two weeks later I awoke to a feeling that I had something in my eye that wouldn't move. After my experience with the retinal tear I didn't want to take chances and contacted my optician, but unfortunately they had no availability to see me but told me I needed to be seen within 24 hours. That's when they said that they could arrange an appointment at another practice on my behalf. So I went to an optician in Kendal, which was very convenient, and I was seen very quickly. It turned out that I had managed to scratch my eye quite deeply and the optician prescribed antibiotic drops. Fortunately, the issue was nothing to do with the retinal tear."
Sally was relieved to get quick reassurance that her problem was not serious. "It was good to see someone locally, rather than making the longer drive to the hospital. Especially with the risk of COVID-19 it was good to be seen in a local practice – I felt very safe."
The Optician's pPerspective – Better Patient Care and the Opportunity to Build Skills
Thirty optical practices in the region are involved in the delivery of the integrated eyecare service, including Ambleside Opticians, where the practice Optometrist is Uzma Ahmed. She has managed numerous patients like Sally, and believes that the service represents the future of patient-centred care: "It is wonderful to play a part in providing integrated care, especially in a community setting  – it is something I envisaged when I established my practice ten years ago, and now Optometrists are really demonstrating the skills and capabilities that exist within primary care optometry."
Uzma can see up to eight patients per week through MECS referrals and finds it a rewarding part of practice: "It is exciting and challenging because you never know what will present from patient to patient. In addition to the usual red eyes and flashes and floaters, the pandemic has presented its own unique eye problems. With people spending more time at home during the pandemic – taking on DIY for example – we have seen a notable rise in eye injuries. Optometrists are very capable in safely managing the majority of these, which keeps people out of busy A&E departments. Education is also important, and we can advise patients on suitable precautions to protect their eyes in future."
Education is not limited to patients. Clinical work is Uzma's main interest, and she enjoys the opportunity to continue building her skills and certifications to deliver the different aspects of the integrated eyecare service: "It has given me the opportunity to improve my knowledge and skills and, for any optician with an interest in clinical work, it is very rewarding."
Ultimately, says Uzma, offering an integrated eye care service allows her to achieve what really matters – outstanding patient care: "Working in a small rural community personalised care is paramount. The service really allows me to take better care of patients and they are very happy to come and see me in a place they are familiar with. Patients are often surprised at how quickly we can offer appointments. Our services KPIs stipulate specified time periods for patients to be seen.
"Not only do these initiatives add value within the eye care profession, our GP practices and pharmacists can also confidently direct all eye-related matters to Optometrists, which we are seeing. I hope the success of these services has served to demonstrate how well-placed Optometrists are to investigate, and manage many eye problems in-practice, and benefit everyone involved. I feel very proud and privileged to be part of this profession."
Since its inception, the Morecambe Bay integrated eye care service has generated impressive numbers of patients managed in primary settings rather than in secondary care and a high level of patient satisfaction.