Game-Changing IT Platform Impresses Early Adopter Practices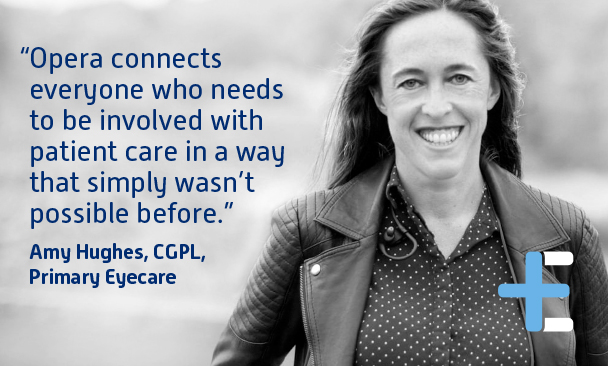 26 November 2020
An essential component of the successful delivery of extended eye services in primary care is the infrastructure that facilitates patient management and referral, collaboration with hospital eye services and efficient claims and performance monitoring.
Opera, designed and built by Primary Eyecare's IT partner FDS Consultants, is designed to fulfil all these requirements in a single, user-friendly platform with a host of features to enable straightforward service delivery and management.
Opera was first developed to support the Covid Urgent Eyecare Service (CUES) and is now being rolled out to all Primary Eyecare partner organisations to manage a wider range of extended eyecare services. Some of the early adopter practices can now provide a useful first-hand perspective of using Opera.
Mark Jones, practice owner of Mark Jones Eyecare in Salisbury, has been using Opera since CUES was implemented in the Wiltshire region in May and has been impressed by the extent of its functionality, saying: "Like any new system it took a little bit of getting used to, but once we found our way around it everything  has gone well and my practice team has had a good experience with it. Overall, I'm impressed with it, it does the job, and the workflow is well thought out."
Ease of use was a critical target during Opera's development and Colin Gault, Ophthalmic Director of Specsavers in Trowbridge, believes this has been achieved: "It's very intuitive when it comes to searching for patients and sending through information such as OCT scans to the hospital eye service. We have used alternative platforms to manage other services in the past and they were very clunky in comparison. If we do have a problem, we can just hit the help button to send a message to the helpdesk and it gets sorted out very quickly."
One of the benefits Colin has noted is the facility to check very quickly if a patient is covered by CUES: "We're on the border with Somerset, which doesn't have CUES, so if a patient comes in from that area Opera flashes up immediately that they aren't eligible for the service  and we can advise them that unfortunately due to their GP's postcode, they need to seek an alternative local pathway for an NHS-funded assessment, or we can see them privately instead."
Opera's roll out is being supported by webinars that present the platform's functionality and advise practices on what they need to do to get onboard with the system; both Colin and Mark have found them valuable. In the period since the first practices joined the platform the onboarding process has been refined and streamlined is supported with step by step walkthroughs so that it is easy to get started.
Amy Hughes is a Clinical Governance and Performance Lead at Primary Eyecare Services, covering part of the South West region, and has been working closely with the platform development team.  Her area was one of the first to launch a CUES service and test the first iteration of Opera. She says that one of the major benefits of the system is that it was designed specifically to support an extended eyecare service: "We've been involved in the platform's design from the very beginning, which is incredibly rare but has huge advantages," she says. "Rather than taking something that already exists and trying to retrofit it onto what we need it to do, it is bespoke to our requirements. It is designed around the service and you can tell that from using it."
In terms of what can be achieved with Opera, Amy explains: "To put it simply, it is extremely good at moving information from one place to the other. It is what everyone wants in healthcare – to be able to move data and get it to the right people without having to worry about file size – especially with the high-resolution image files we need to send. Being able to do that in an online platform is a game-changer. Basically, it connects everyone who needs to be involved with patient care in a way that simply wasn't possible before."
Another key benefit of having a bespoke platform is the high level of support from the development team that means any changes or improvements are made very quickly. Amy continues: "It is incredible what has been achieved in such a short timeframe, and that responsiveness continues. Things that would typically have taken months to update or change are happening almost instantaneously. This is related to fact that the team is currently developing the platform in line with requirements for all services, rather than altering existing code, and as a result it feels very flexible."
Provision to manage other extended services through Opera is in development, with MECS going live in December and Glaucoma and Pre- and Post-Cataract services in January.
Find out more about Opera's functionality and implementation here.